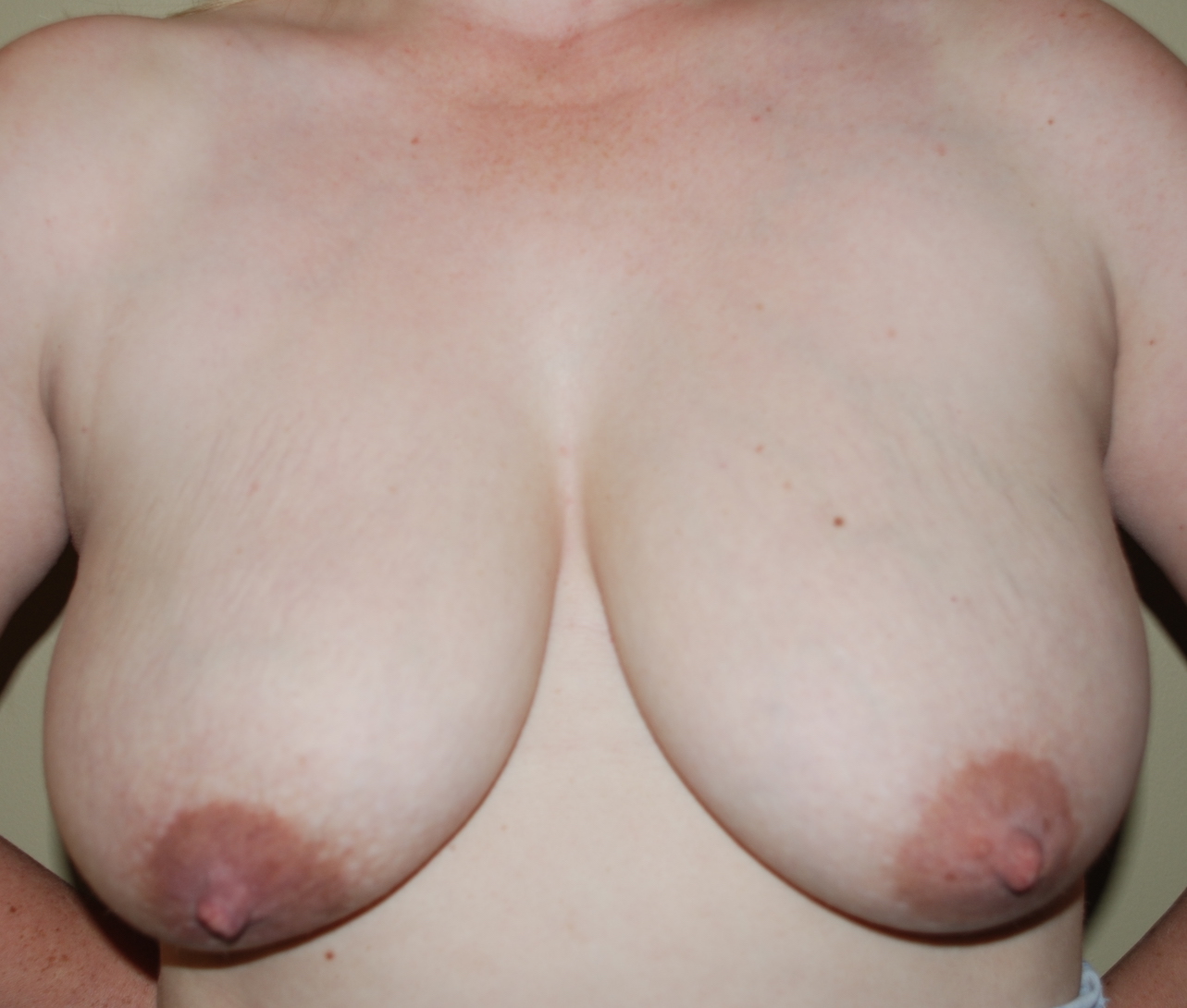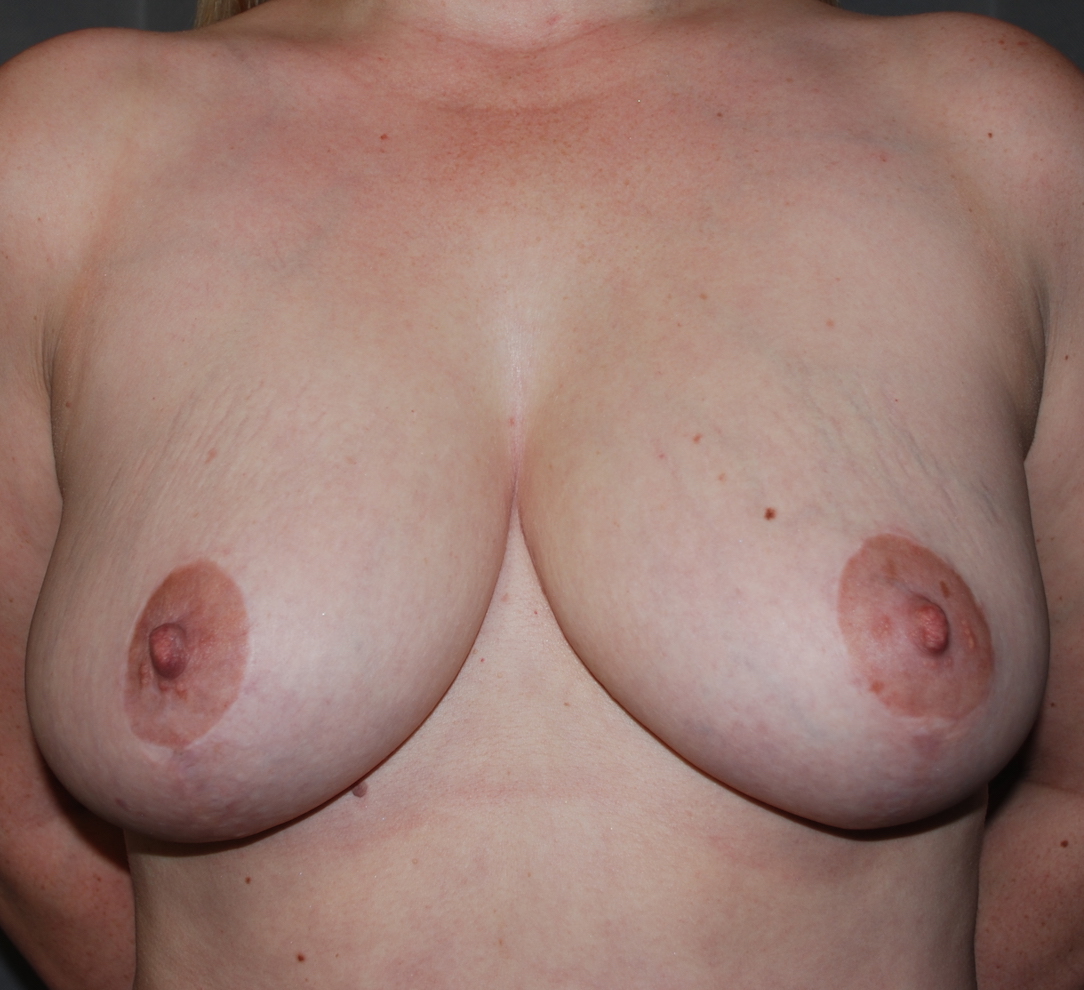 "They are even better than I thought they would be....." BB East Sussex
"I had a breast lift with Oliver Harley,he provided excellent communication about what to expect during and after the procedure ,he was extremely professional and this made me relaxed and confident. I am very happy with my end result (so much so that I'm returning for more surgery with him) and would highly recommend him to others"   AS Tunbridge Wells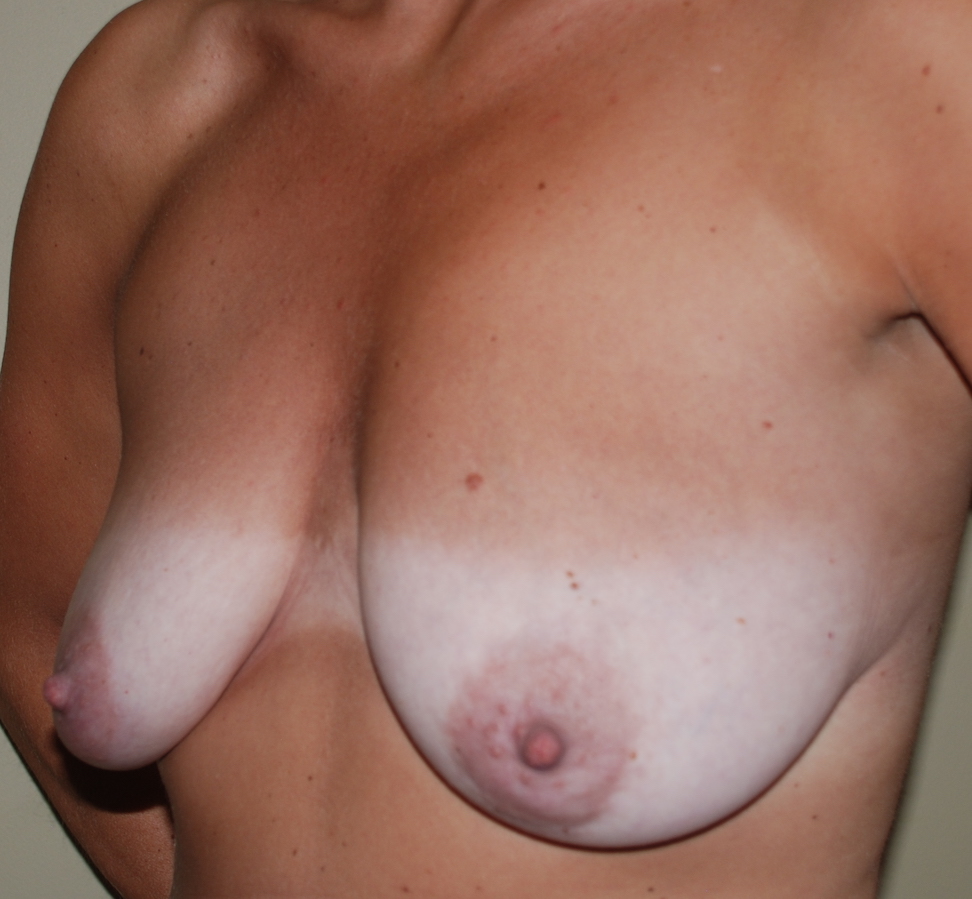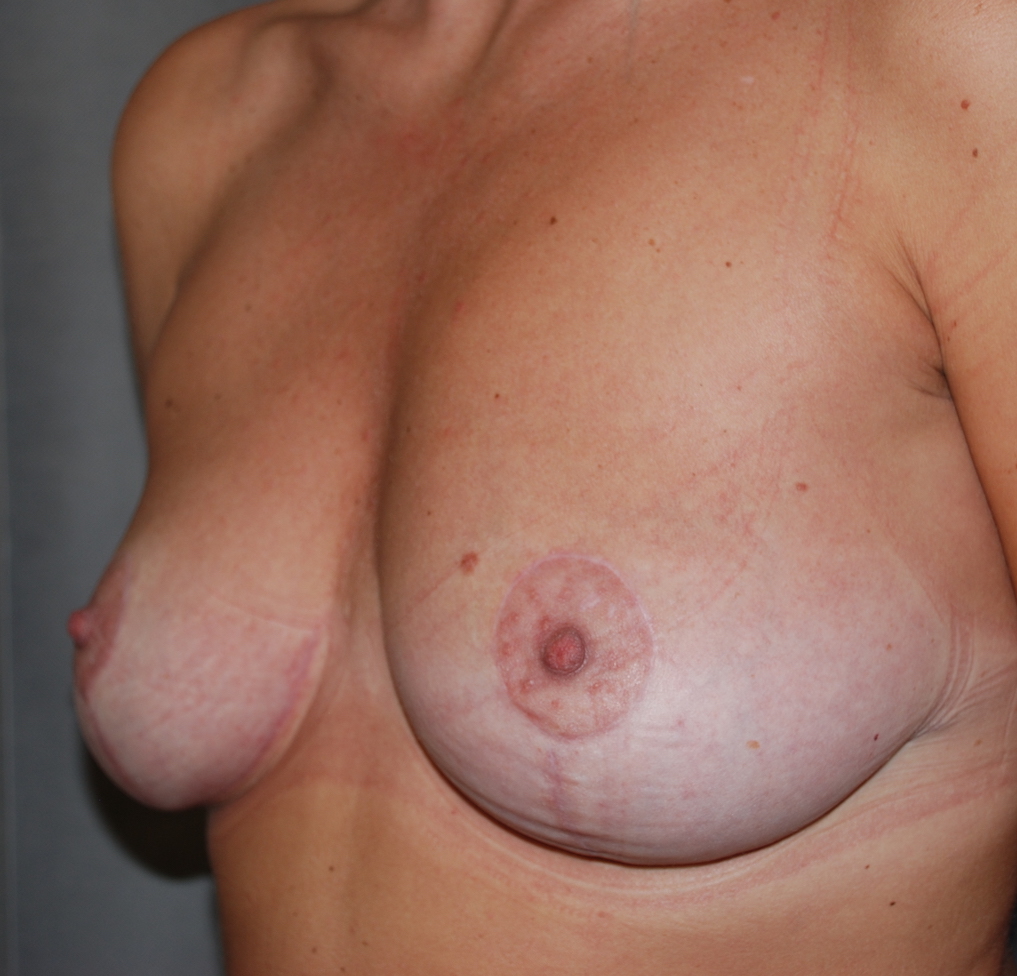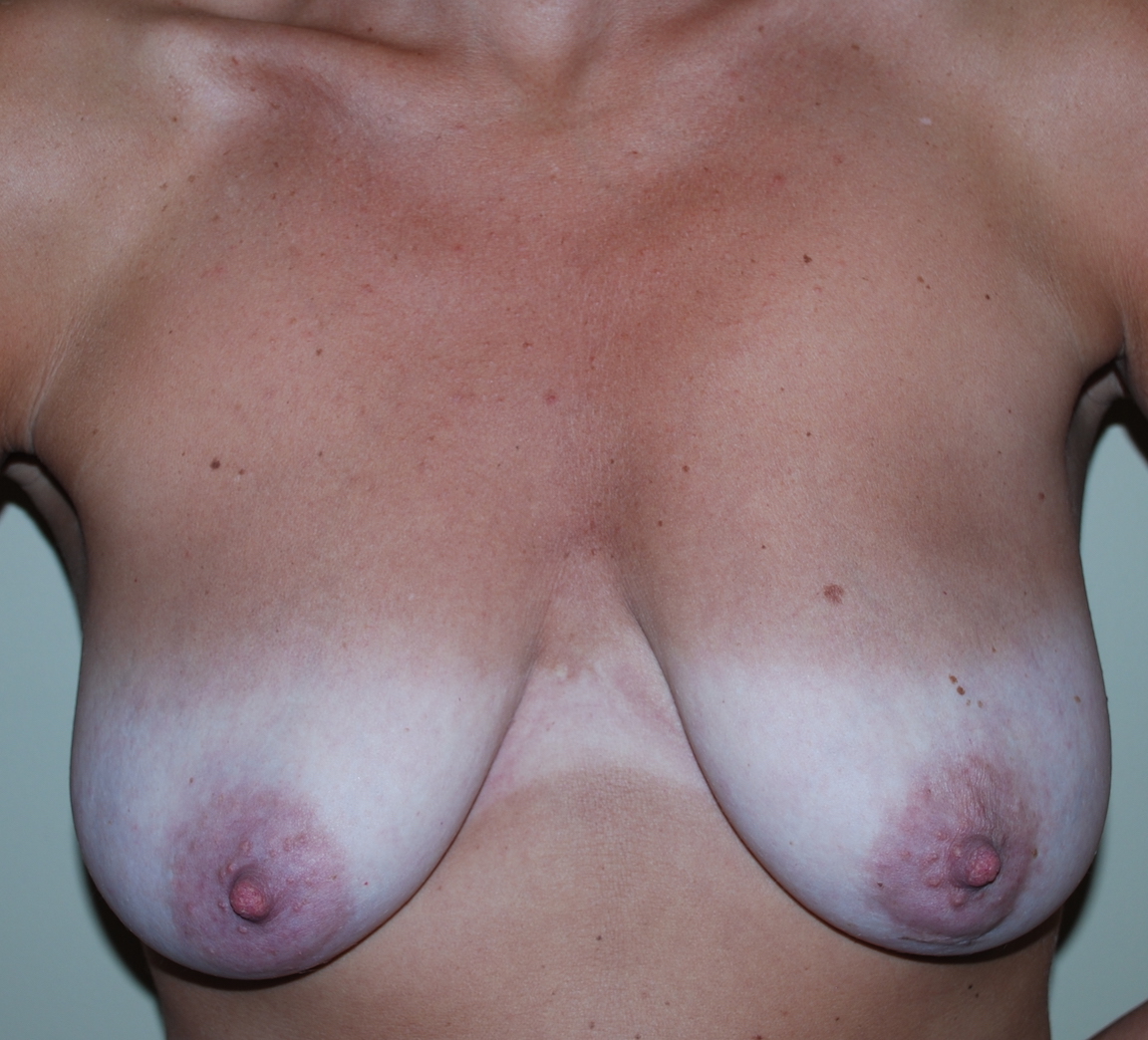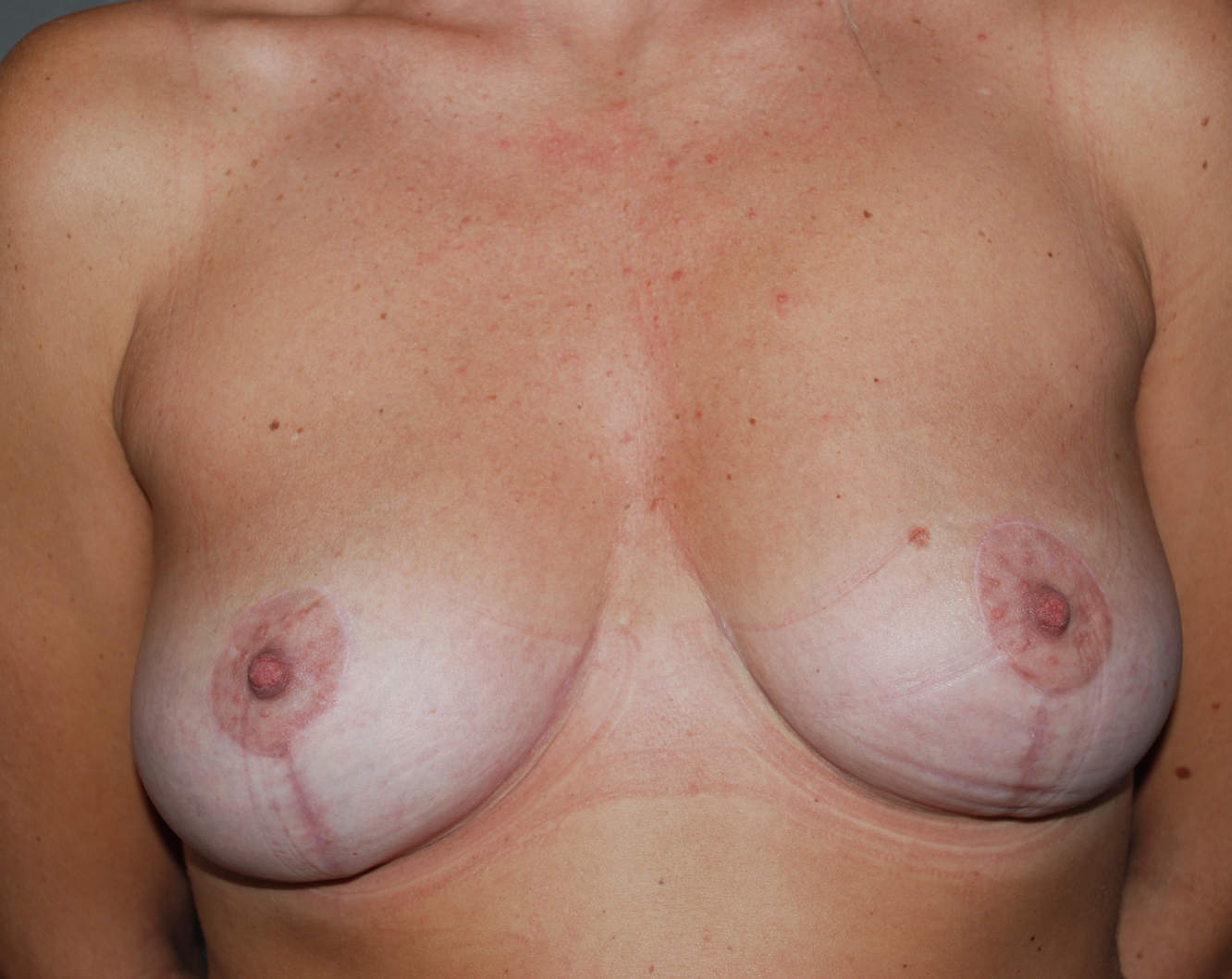 Droopy breasts with large nipple pads.  Breast uplift improves the shape of the breasts and has reduced the nipple pads.  At 5 months the scars are pink and these will fade typically within  a further 6 months.
The position and shape of the breast changes with time. In a youthful breast the nipple is approximately at the level of the breast crease ('Inframammary Fold'). There is a tendency for the nipple and the tip of the breast to droop lower than this level. This is influenced by a number of factors especially changes in size related to childbearing and breast feeding, weight change and ageing. Gravity draws the breast down so that the nipple is below the level of the breast fold and it may point towards the floor rather than straight ahead. This drooping of the breast is known as 'Ptosis'. The shape of the breast can be restored to a more youthful appearance by restoring the position of the nipple and reshaping the skin and the breast tissue around it.
Is Breast uplift the right operation for me?
If you are happy with the way your breast fills a bra cup (i.e the quantity of breast tissue you have) but not with the appearance of the breast when you are without a bra it is possible to lift the breast without removing any breast tissue. If you would like more quantity in the breast as well as an uplift, this can be achieved by combining mastopexy with a breast implant at the same time. It may be possible to treat mild amounts of drooping with a breast implant alone. If you would like to reduce the quantity of breast tissue, a breast reduction is done. The design of breast reduction is very similar to an uplift but breast tissue from the lower half of the breast is removed rather than re-shaped.
How is the surgery done?
Mastopexy removes skin only from the underneath of the breast and from around the nipple pad. This is carefully measured and planned at your consultation and again immediately prior to surgery. The remaining skin is reshaped around the nipple to uplift the breast. Scars are sited around the nipple pad. In some cases where only a small lift is required, no further scars are required. Where a more extensive lift is needed, a further scar is sited from the nipple pad vertically down to the breast crease and then side to side in the breast crease. These heal well and are generally very subtle once the healing process is complete.
How long does the operation take?
It is day case general anaesthetic surgery which takes approximately 2 hours. Typically, patients do not seem to experience much pain after this surgery. A soft supportive bra should be worn for 6 weeks and strenuous or repetitive activity must be avoided during this time.
What happens after the surgery?
Shower-proof dressings are used and a soft supportive bra will be put on you in the operating theatre. You typically would go home on the day of surgery or perhaps the day after. You are advised to rest quietly at home for a week or so. Dressings should be left intact until your first check-up 1 week after surgery. The bra should be worn continuously (except for washing) for 6 weeks after surgery. Strenuous or repetitive activity must be avoided during this time. You can have a brief shower or stripwash but bathing and swimming should be avoided for 2 weeks or until all wounds are sealed and dry. There is some pain but it is rare for this to be severe after breast uplift. The breasts will be bruised and swollen and this will settle slowly during the weeks that follow surgery. It will be approximately 3 months before the breasts become soft and natural feeling and it takes approximately 12 months for scars to fade. In the longer term you will find that the nipple and the skin on the underside of the breast is a bit numb.
What are the risks of Breast Uplift Surgery?
Common to all surgical procedures there are some risks associated with breast surgery. However, breast uplift is a very safe procedure if performed by a fully qualified and trained plastic surgeon in a hospitals with a high standard of care. The common risks are bleeding inside the breast (less than 0.1%), infection (less than 0.1%) and poor nipple healing / loss (less than 1%), fat necrosis – hardening ( less than 1%). Sometimes small folds of redundant skin remain after surgery especially where large uplifts are done. Each of these risks may require revision surgery. Other risks that may occur are; loss of nipple sensation, poor scars, asymmetry of the breasts. In common with most types of surgery, DVT is a risk with breast uplift surgery, however we follow the NICE guidelines to minimise this risk before, during and after your surgery.
What happens if I have children?
You must not be pregnant or breastfeeding at the time of surgery. It is advisable not to become pregnant for 12 months after breast surgery in order to allow the breast to fully settle. Pregnancy itself causes no problem but ability to breastfeed after breast uplift is not guaranteed. It should be remembered that some women with unoperated breasts are unable to breast feed. In most cases breast uplift is requested by women who have completed their families.
How long do results of breast uplift last?
The breast will change in shape and fullness during your natural life. For smaller breasts in women who have stable weight and no further pregnancies, it is likely that the uplifted breast will maintain its shape for many years. For women with heavier or implanted breasts and for those who have further pregnancies or fluctuation in weight, it is much less easy to predict the long term outcome.
Should I be concerned about breast cancer and breast uplift surgery?
This depends on your age and any family history of breast cancer. Breast uplift surgery is not linked with breast cancer. Your surgeon will examine your breasts for lumps when you attend for your consultation. If you are over 40 or have other risk factors (family history of breast cancer) you are advised to visit a screening service in advance of having breast uplift. It is helpful to do this prior to your consultation.
Is a breast uplift right for me?
If you like the way your breasts are when you are wearing a bra or a bikini but disappointed with the look of them when you are not you may benefit from an uplift. The uplift doesn't alter the quantity of the breast but reshapes and repositions it for a more youthful look. Through a careful and supportive consultation your specialist will determine what is achievable in terms of size and shape and your general medical health.
Why have my surgery with Mr Harley?
Oliver Harley has had extensive experience and training in plastic surgery of the breast in the UK both within the cosmetic sector and the NHS. Communication and empathy is vital for providing good, safe care; a personal service is offered which includes opportunity for additional pre-operative consultations, follow up for a year after surgery as necessary. You will meet Mr Harley at all consultations and this will enable him to understand your cosmetic objectives, to reassure and support you throughout the process and to ensure the best possible outcome from your surgery.